Saturday, December 8, 2018
Opens at 9:30am!
at Grace United Reformed Church
Buy your Christmas goodies by the pound! All varieties of cookies will be on hand, as well as fudge, pies, caramels, divinity, candies, gingerbread, and chocolates. And don't forget the scones and biscotti for Christmas morning!
Once again the 100% Whole Wheat Cinnamon Bread will be available, as well as beautiful frosted sugar cookies and hand-dipped peanut butter balls. Almond bars, multiple varieties of fudges, hand-wrapped salted caramels, truffles, and so much more!
Serve homemade pie this year! We will have award-winning pies available to choose from, as well as cakes and other desserts to serve a crowd.
Design your own cookie platter or goodie bag for parties or neighbor gifting.
Let us do your Christmas baking for you! Choose exactly what you want and walk away with dozens of decorated cookies without ever having turned on your oven.
We'll even wrap your treats for you!
And don't miss the Gift Emporium! There will also be select handmade items, including jewelry, centerpieces, knit and embroidered textiles, and home decor to round out your Christmas shopping.

Christmas treats are $10/pound and every dollar supports the local You Medical ministry.
Personalized Gingerbread Men are sold out for 2018!
Gingerbread men are 8″ tall and $6 each, all gingerbread men orders will be paid for when picked up between 9:30-noon Saturday, December 8th.
They come packaged, tied with a bow, and in a gift bag, ready for giving. They make great stocking stuffers or even place cards!
Best of all, they are fresh, homemade, and delicious. Yes, they last perfectly until Christmas!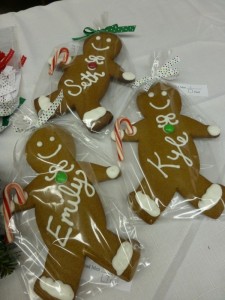 ---
Email Mystie if you have any questions!